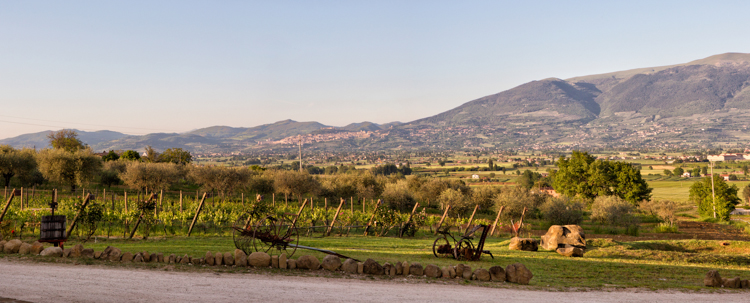 Ascetical and spiritual Umbria Region
Umbria is a region which must be visited slowly, allowing you to soak in the sweetness and harmony which is typical of the countryside: age old vineyards and olive groves, medieval villages and places of spiritual significance.
The Di Filippo winery is situated in Cannara and nearby is Pian d'Arca, where St. Francis spoke with the birds.
The philosophy of the Di Filippo family is to respect the environment – evidence of which is seen in their decision to cultivate organic produce, and increasingly to move towards biodynamic cultivation, thus responding to the natural harmony of the region.
Cannara is situated within a tourist itinerary of great natural interest in Umbria – home to the famous cook Angelo Paracucchi, and home also to typical onion dishes and those of popular tradition.
Among the riches of Cannara are the delightful medieval village of Collemancio, on the crest of a hill 500 metres above the valley, and the nearby archaeological site of Roman Urvinum Hortense.
The village has splendid views all round, and a breathtaking panorama over Spello and Assisi, attracting the curiosity of more and more visitors who come to Umbria.